Hello to all of you..I'm back again to write a review of a product from a famous Korean brand: The Face Shop! In today's blog post I'm going to talk about a product of their brand line: Smim Radiating Moisturizing, especially Smim Radiating Moisturizing Essence.
A radiating essence that contains cloudberries that help regain youthful, glowing skin.
Tibetan mushrooms.
Contains Cloudberry that promotes skin resilience and provides excellent anti-oxidant effects.
Whitening effects (Niacinamide).
Contains betain, shea butter, sodium hyaluronate that provides skin moisturizing ingredients.
Even the sachet is cute!
MY OPINION
Honestly this is my first time to try this brand and to try an essence...so I was a little bit afraid if this product can cause skin breakout or not. So I tried to apply a little bit of the essence on my jaw, obviously after cleaning my face and using a toner, to test if it will cause some reactions, I know I should have tried it behind my ear...
And, beyond my expectations, it didn't cause me any reactions, so I applied it all over my face. I thought that this sachet is a single dose, but I was able to use it for three (3) days (and twice everyday - in the morning and evening).
The essence's texture is not thick nor thin nor sticky, so it's easy to apply on the skin but you have to wait a little bit to be fully absorbed by your skin. It doesn't have a strong scent, indeed it is very delicate and it smells like citrus (and this was a pro for me because I'm a fanatic of anything that has citrus scent)...
I'll be showing you how does the essence look like when applied on the skin.
This is how it looks when it is blended:
And this is the difference between a surface on my wrist with the essence on and without it:
After applying it consecutively in three days, I can see a little bit of difference, and what I love is that it moisturizes my skin immediately - you can skip applying a moisturizer!
The full size of this product is this:
From the brand's Korean site it says that it contains 120 ml and it costs 45,000 KRW (more or less $40), and from their International site it says that it contains 80 ml, but the price is not mentioned.
Here is the description of the product (written in Korean):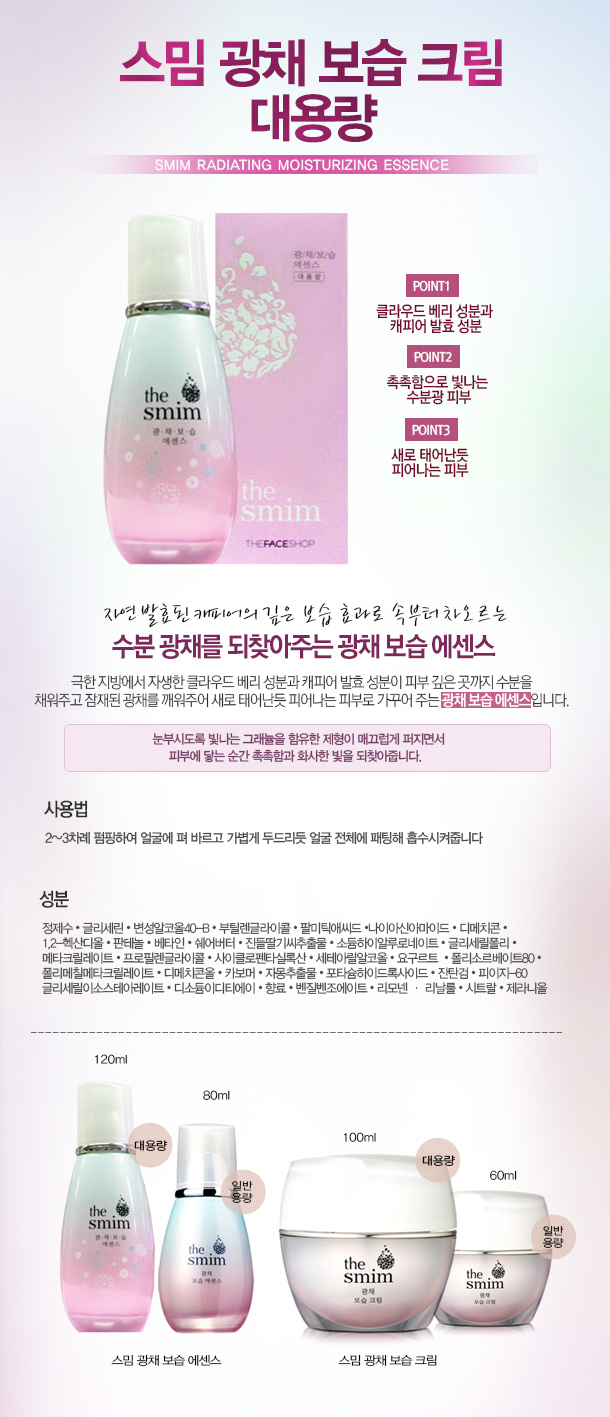 Click on image to enlarge.
사용법 means how to use, and after trying to translate it, it says:
"Every morning and evening, after using Smim Toner, pump 2~3 times and apply gently onto the entire face in an outward direction. Tap lightly with fingers for full absorption."
And 성분 means ingredients, well I'm so sorry I am not able to translate Chemistry terms from Korean to English.
WILL YOU BUY IT? WOULD YOU RECOMMEND IT TO A FRIEND?
I dunno if I'll buy it because it is little bit expensive for my budget, though I fell in love with it.
Yes, I definitely recommend it to a friend, especially those who want to brighten up their skin complexion!
This product was received from a giveaway as a prize hosted by KOKOsmetics. No money was given nor accepted for this review. This review is my personal opinion and experience of the product received.